Skip Navigation
Website Accessibility

Hello! I'm Beatrice. You may recall Karleen introduced me as her "new partner in crime" a little while back. Little did she know I was going to come in and make myself at home!
I'm going to pop in here on the regular to show you how I wear my Sewing Studio purchases. It's so hard to shop online and really know what you're getting, how fabrics are going to behave, or even if two fabrics will go together. Since I'm here, and you're there, let me show you how fabrics drape, pair up, and how I sew with them.
Do you love the
10x10 challenges
, capsule wardrobes, or the
Wardrobe Architect
series? ME TOO. You're going to love some wardrobe showcases I have lined up! I wear office attire, workout clothes, weekend casual, and all things inbetween. We'll show you draped fabrics and some sewn up samples so you can feel even better shopping our amazing fabrics!
Let's kick it off right now, shall we? We got some amazing 70s sunset inspired striped knits in the shop now! These are deadstock of what we lovingly refer to as "mystery content." What does "mystery content" mean? Well, it means it wasn't labeled and/or the seller didn't know. Sometimes a burn test is effective, and sometimes you can guestimate. We guestimate these at a rayon/poly blend with some spandex thrown in. They're incredibly soft, which tells us likely rayon, but the stretch and recovery tells us there are synthetic fibers as well. Use a cool-to-medium iron on a test piece, an all purpose thread, and we like a size 75 stretch needle or our serger for these.
I was visiting a friend's lovely garden for some weekend lounging. This is a wrap top paired with a maxi skirt for an easy optional separates or dress look.
Knits don't unravel, so I didn't bother hemming my skirt for this casual meet-up. Sometimes knits can have a lot of "edge curl" but I didn't find that the case.
For this outfit, I used the
assymetrical stripe knit here
, and the top is a popular
Seamwork pattern
.
I'm excited to try this top later over a camisole with wool pants for the office.
Later in the weekend, it was time for some denim bottoms and a basic raglan t-shirt as we explored more muddy areas.
This fun
retro-inspired stripe
pairs great with
Morgan jeans
or skirts in thicker denims like this
Cone Mills selvege denim
I'm wearing.
You'll have no problems with the seams being run through a serger and still laying perfectly flat.
Even the neckband was attached with just a serger and had no problems. Just a nice and easy application, hit it with a bit of steam from the iron, let it cool in place, and voila!
These knits are great for year-round wear as they layer easily. It was perfect for the autumn sun and enjoying the sights.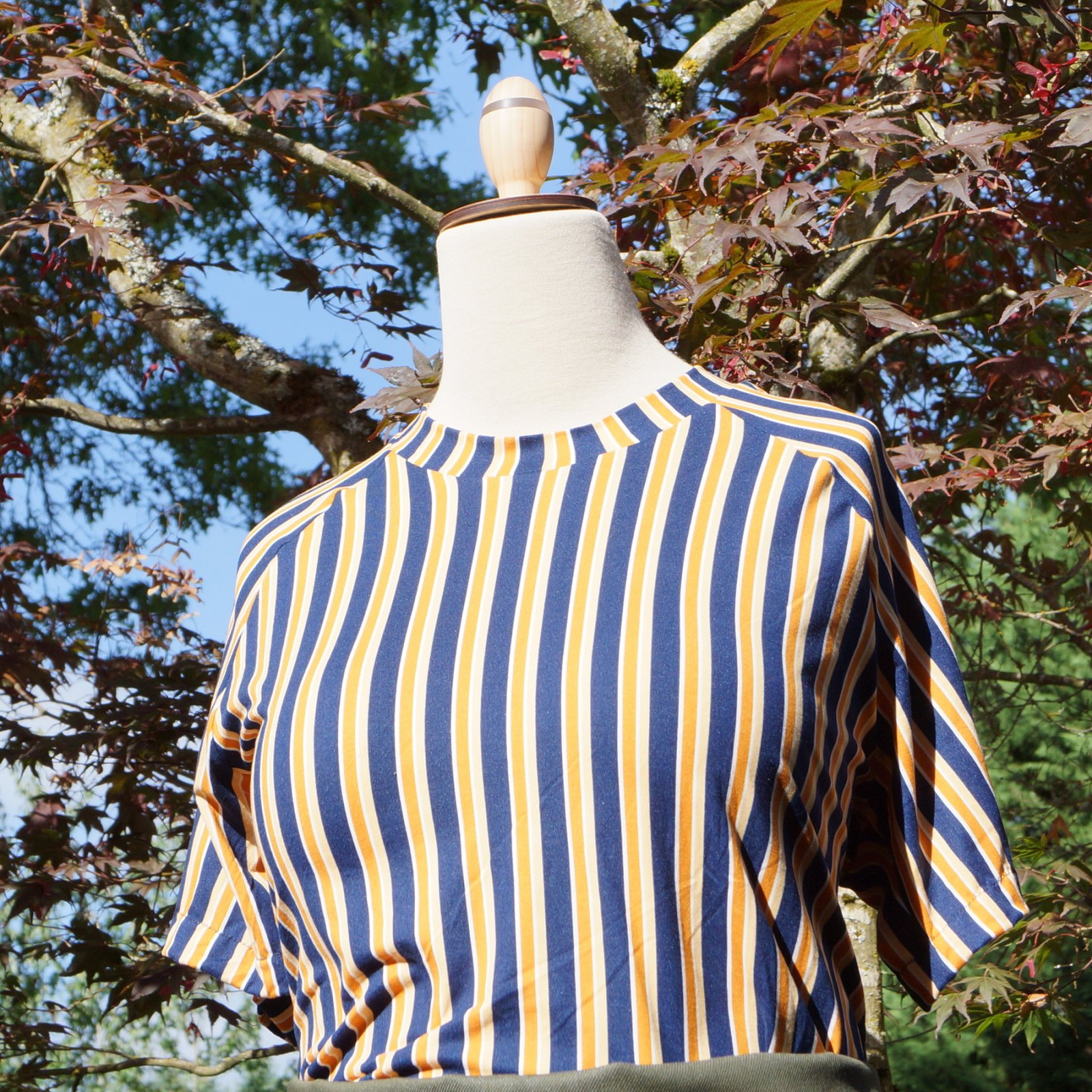 Here's a few of our other knits in the shop. There's a
lovely pink, peach, black, & white colorway
, paired here with a
white bull denim
. We are proponents of year-round whites at the Sewing Studio!
We also love this
red and blue colorway
, paired with this
super soft blue linen/rayon blend
.
There are even more added in the store, so go check it out under
New Fabrics
and see which one is your favorite!
While you're doing that, I'm going to plan a few more closet peeks for you. Stay tuned and I'll catch you soon!